Childhood pneumonia is the single largest infectious cause of death in children worldwide with an estimated 0.92 [0.812 − 1.117] million deaths in children under five in 2015 [1], equating to about 16% of all child deaths globally [2,3]. The majority of pneumonia deaths in children under five occur in low and lower-middle income countries in Sub-Saharan Africa and South-East Asia [2]. The goal of the integrated Global Action Plan for the Prevention and Control of Pneumonia and Diarrhoea (GAPPD) is to reduce deaths from pneumonia to fewer than 3 per 1000 live births in children under five by 2025 [4]. This involves improving care seeking for children with symptoms of pneumonia, access to health care, treatment with appropriate antibiotics where needed, coverage of pneumococcal vaccination and improvement of general health & well-being of children in low and lower-middle income countries. Monitoring trends in the proportion of childhood pneumonia cases correctly diagnosed and treated with antibiotics is therefore a vital element in the planning and monitoring of programmes aimed at controlling childhood pneumonia.
Demographic and Health Surveys (DHS) and Multiple Indicator Cluster Surveys (MICS) are household surveys conducted in low and lower-middle income countries every 3-5 years [5,6]. They collect information on health and well-being using standardized methods and tools. These are usually conducted on households chosen via a multi-stage cluster sampling design to provide a representative sample of the country being investigated. DHS and MICS outputs are used for many purposes, including supporting the monitoring of population health and health services. These data are particularly valuable in settings where routine health information is not available on a wide scale, is inconsistently collected or is unreliable [7,8]. DHS and MICS surveys interview caregivers / mothers of children and gather information on episodes of various childhood illnesses. These include suspected acute respiratory infections in children under five in the household and are based on a two week recall period. DHS and MICS surveys also gather information on reported use of antibiotics for these episodes [5,6]. Correct interpretation of surveys is needed to provide child health programmes with useful advice to guide activities. This in turn requires us to know the sensitivity and specificity of survey tools for detecting episodes of childhood disease. However, cross-sectional surveys are known to be prone to information error and bias with the potential for non-sampling errors from differing caregiver recall and survey instruments [9].
DHS and MICS surveys enquire about fever, cough, fast breathing with short, rapid breaths or difficulty breathing in the previous two weeks (and whether these were chest-related) [5,6]. DHS and MICS now label these as "symptoms of acute respiratory infection". Despite this clear terminology, there are concerns that these episodes are often interpreted by other groups as a "proxy" for childhood pneumonia where only a minority of episodes reported represent true cases. One prospective study in Pakistan and Bangladesh found that current DHS and MICS methods discriminate poorly between children correctly diagnosed with pneumonia and those with cough/cold [10]. The positive predictive value of DHS and MICS tools has been estimated to be only 22% in identifying true pneumonia among those with reported symptoms of acute respiratory infection [11]. Despite these surveys enquiring about use of antibiotics for symptoms of acute respiratory infection, current survey tools may not provide an accurate denominator number of children with true pneumonia episodes to assess the percentage of children with pneumonia appropriately treated with antibiotics. Since the DHS and MICS survey data on antibiotic treatment relates to this group of children with 'symptoms of acute respiratory infection', there is a significant risk that any indicator measuring antibiotic treatment coverage for pneumonia may not be valid. Furthermore, concerns have been raised about the accuracy of caregiver recall of antibiotic use using current methods [10].
Population–based data on the proportion of children with pneumonia that are treated with an antibiotic is an important metric for district, national, regional and global monitoring of interventions designed to improve appropriate antibiotic treatment (and survival outcomes) for childhood pneumonia. However, if this metric is invalid it could lead to incorrect or uninformed programmatic decisions for the delivery of interventions. We conducted a prospective observational study to assess the validity of DHS5 and MICS5 questions in discerning true cases of pneumonia and treatment with antibiotics in the South-West region of Nigeria, a country with one of the highest numbers of child deaths from pneumonia in the world. We also aimed to assess differences in caregiver recall at two and eight week follow up and to test if caregiver recall of antibiotic treatment can be improved by use of an additional survey tool (a medicine pill board). Our results were compared to the results of a previous study (which investigated DHS and MICS survey tools in Asian countries) in order to provide recommendations on the appropriateness of the use of these metrics in the planning and monitoring of health programmes for tackling childhood pneumonia.
DISCUSSION
DHS and MICS have a key role to play in providing population-based indicators to guide health programmes in countries with limited routine health data. However, few studies have evaluated the validity of DHS and MICS questions for evaluating antibiotic coverage for episodes of childhood pneumonia. This prospective observational study in South-West Nigeria adds to evidence from studies in Pakistan and Bangladesh [10] and finds similar conclusions in an African setting where malaria is an important child health problem and with high child mortality from pneumonia. DHS and MICS surveys are not designed to identify pneumonia cases and this study confirms the previous finding from the Asian studies that questions used in DHS5 and MICS5 surveys have poor sensitivity and specificity for discerning children who have pneumonia from those with no pneumonia. Thus, we suggest that this is a generally applicable finding which reflects the characteristics of the questions and the study populations of these surveys and is not related to specific study sites. The proportion of caregivers for children with pneumonia who had been treated with antibiotics, accurately recalled this only 58% and 59% of the time with MICS5 and DHS5 questions respectively. This recall improved to 87% with the use of a pill board and this should be considered as an inexpensive and feasible tool as part of DHS and MICS to improve accurate reporting of antibiotic use. Once again, this finding has now been replicated in several study sites and settings [10] and we suggest that this may be generally applicable.
Recent progress in improving access to treatment for childhood pneumonia remains a top priority for policy makers aiming to decrease preventable child deaths [4]. National programmes require appropriate evaluation measures to assess the prevalence of childhood pneumonia and to subsequently estimate the number of cases appropriately treated with antibiotics. Given the limitations of the population-based health information in most low-income countries and many lower-middle income countries, key policy decisions (especially those requiring population-based data) are often based on DHS and MICS surveys. However, on this particular metric, the proportion of children with pneumonia who received antibiotic treatment, DHS5 and MICS5 questions in this Nigerian study had poor sensitivity for identifying true pneumonia cases. Comparing this to study sites in Bangladesh and Pakistan, DHS and MICS questions in this study had significantly lower sensitivities for detecting true pneumonia (37.3, 95% CI = 30.9-44.1. ( Table 4 ). The specificity of DHS5 and MICS5 questions in our study were 87.42 (83.14-90.94) and 86.09 (81.67-89.79) respectively. These were slightly better than those reported in study sites from Bangladesh and Pakistan ( Table 4 ). However, the respective Area Under the Curve (AUC) estimates which summarise discriminative power of this approach in these different settings show that, although individual sensitivity and specificity values vary across sites, they all fall broadly in the same range of AUC values ( Figure 2 ). The reasons behind this substantial variation in sensitivity and specificity between countries and between study sites within countries are unclear and require further investigation. This level of unexplained variation is another major reason to urge caution in the use of these data. Differences in this indicator over time or across countries may be due to artefact based on variation in these underlying parameters rather than reflecting any change in antibiotic treatment practices. Estimates from these questions therefore should not be used to compare pneumonia prevalence or antibiotic treatment rates between study sites or countries.
Table 4.  Specificity and sensitivity of DHS and MICS questions in Bangladesh, Pakistan and Nigeria study sites [10]
| Study site (number of participants) | DHS sensitivity | MICS sensitivity | DHS specificity | MICS specificity |
| --- | --- | --- | --- | --- |
| Bangladesh urban (n = 546) | 24.6 (17.5-32.9) | 25.4 (18.2-33.8) | 81.7 (73.6-88.1) | 82.5 (74.5-88.8) |
| Bangladesh rural (n = 455) | 71.1 (61.0-79.9) | 70.1 (60.0-79.0) | 56.5 (45.3-67.2) | 56.5 (45.3-67.2) |
| Pakistan urban (n = 672) | 64.7 (58.4-70.9) | 63.8 (57.5-70.0) | 68.5 (62.5-74.4) | 67.2 (61.1-73.2) |
| Nigeria urban (n = 604) | 37.3 (30.9-44.1) | 37.3 (30.9-44.1) | 86.2 (80.9-90.5) | 84.8 (79.3-89.3) |
| Mean | 49.4 | 49.2 | 73.2 | 72.8 |
DHS – Demographic and Health Survey, MICS – Multiple Indicator Cluster Survey
Figure 2.  Receiver Operator Characteristic (ROC) curve of performance in discriminating children with pneumonia across four study sites, including Ibadan (Nigeria, urban); other data from [10,11].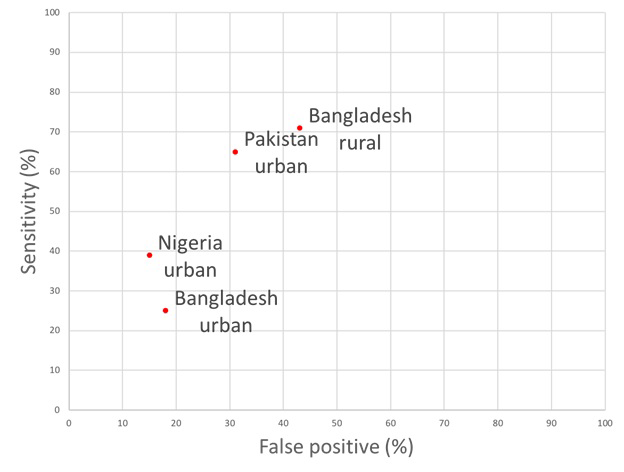 The results of this study demonstrate that population-based survey questions to caregivers do not accurately discern true pneumonia cases from those with cough/cold (no pneumonia). This is not surprising given that we do not expect caregivers to be able to know when the symptoms in their child represent pneumonia and there is often unreliable and ineffective communication on diagnosis between health workers and caregivers. Although DHS and MICS report these data appropriately there is considerable potential, if reported as a proxy for childhood pneumonia, for these data to lead to incorrect global and local programme decisions. If we assume an underlying incidence of WHO defined pneumonia in developing countries of 0.22 per child per year [14] and an under five incidence of acute respiratory infection (ARI) in developing countries of 5.5-7.5 episodes per child per year [15-19] then several times more children who are identified by these questions about respiratory signs do not have pneumonia than have pneumonia. The recent changes to DHS and MICS questions (which adds specifically whether caregivers thought respiratory difficulties were 'chest-related') have led to the identification of a sub-group of more severely ill children with cough / cold as evidenced by the falling prevalence of these reports over time [20]. Nevertheless, children with pneumonia represent a minority of cases identified. These data should, therefore, not be used to estimate burden of pneumonia in young children [2] as they will over-estimate this substantially and are likely to vary significantly due to varying performance characteristics of this approach (as noted above). In addition, these survey questions currently do not provide an accurate denominator number of children with true pneumonia and so are severely limited in their ability to estimate appropriate antibiotic coverage for childhood pneumonia. Signs of acute respiratory infection is one of the commonest reasons for care seeking and for antibiotic treatment in young children [21]. Use of these data to estimate antibiotic treatment rates for child pneumonia can be expected to yield falsely low values and may lead to a drive within national programmes to promote and increase antibiotic prescription. This, in turn, could contribute to increasing overuse of antibiotics (due to inappropriate antibiotic prescribing for episodes of cough/cold) which underlies rising antimicrobial resistance globally.
We found that the use of pictorial representations of locally available treatments (a "medicine pill board") improved accurate recall of antibiotic treatment. This was found consistently in both this study and other study sites in Pakistan and Bangladesh [10]. Poor antibiotic treatment recall without use of pill boards likely underestimates their usage. However, despite an increase in accuracy as measured by the Kappa statistic ( Table 3 ), it is noted that there was a decrease in specificity of antibiotic recall. Therefore, further research into their use may be warranted but future surveys should consider incorporating similar visual cues and a number of DHS surveys have already incorporated their use. Pill boards have been shown to improve accurate recall of drugs in other settings [22].
Use of population-based indicators to measure national programme performance in tackling child pneumonia
Given current estimates of pneumonia incidence in developing countries of 0.22 episodes per child per year, two week recall surveys will not identify sufficient numbers of pneumonia cases to give accurate prevalence estimates unless very large numbers of children are surveyed [14]. This study did not find a significant difference in the specificity and sensitivity of survey questions between recall periods of two and eight weeks . Inaccurate reporting of childhood diseases may therefore not increase significantly when recall is increased by a short period of time [10,23]. Survey recall periods for episodes of acute respiratory infection could therefore be increased without losing quality of data and may capture more episodes in a single survey.
Health programmes should explore other avenues to collect health information on childhood pneumonia in low and lower-middle income countries. DHS and MICS may be able to provide sufficient information on care seeking rates for acute respiratory infections including pneumonia. Other studies could also investigate the quality of care from trained providers for childhood pneumonia and prevalence should also ideally be based on trained observation for signs of pneumonia and not maternal recall. Approaches such as these may provide more accurate measures for the management pathway of childhood pneumonia in future [24].
Study limitations
This study is limited by the recruitment of children in hospital out-patient settings since those who sought care for their child's illness may differ systematically from those who did not. Participants were also recruited from one area of Nigeria and, as has been seen in other studies, the performance of these questions can vary significantly by study site [10]. This may mean that the sample in this study is not truly generalisable to other children in other areas of Nigeria or, more generally, to low and lower-middle income countries. However, the main study conclusions do concur with the findings from study sites in Bangladesh and Pakistan. The recruitment of participants at the time of seeking care and alerting them to follow up may also have improved the recall of study participants when followed up subsequently. The same trained doctors who were involved in enrolment and diagnosis, also delivered these questions during follow up, which may have been a potential source of bias and the use of doctors to deliver questionnaires is different to the actual data collectors used in these surveys. There was loss to follow up which was higher in the 'no pneumonia' group as described in Figure 1 . This is a potential source of bias to factor into interpretation of results. The specific wording of DHS and MICS questions have also been updated in the most recent iteration of surveys. Only a single assessor classified children as having pneumonia or not according to current WHO criteria which may have introduced bias when placing child in groups of with or without pneumonia. We attempted to mitigate this by arranging training and monitoring to be conducted by a highly experienced WHO staff member who had conducted the training in the previous study [10].