Human resources are an essential component of global health systems, but the world is facing a chronic shortage of trained health workers.[1] The situation is particularly alarming in sub-Saharan Africa (SSA) [2]. Eye care is not an exception to this crisis, with an average of 2.7 ophthalmologists per million population in SSA [3-5], compared to 31 per million globally [6]. Additionally, ophthalmologists in SSA tend to be located in urban centres, leaving large parts of rural communities with no access to eye care [7,8]. The availability and distribution of the eye health workforce has been highlighted as a priority for action in the recent World Report on Vision [1,9,10].
In response to the growing demand for health care and persistent shortages of health workers, the World Health Organisation (WHO) has encouraged the adoption of a task-shifting strategy [1,11], which makes use of available human resources by delegating specific tasks from a higher level cadre to a lower level one [2,11]. Successful examples of task-shifting in eye care come from Neglected Tropical Disease (NTD) programmes, where community volunteers distribute drugs to prevent onchocerciasis [12] and nurses perform trichiasis surgeries [11,13]. The use of primary and community health workers in other aspects of eye care has been under debate. Those in favour of the approach [14] argue that lower level health care workers are better placed to raise community awareness, find asymptomatic patients and treat simple eye conditions, preventing complications and saving patient and provider time and costs. However, there is limited real life evidence on the opportunities and challenges of task-shifting eye care tasks within wider primary health systems [14,15].
Sierra Leone is one of the poorest countries in the world, [16] and presents some of the worst health indicators [17-19]. The prevalence of blindness among people aged 50+ years is estimated at 5.9% with over 91% of the burden considered avoidable [20 ,21]. The latest Eye Health System Assessment conducted in 2013 shows densities of 1.8 ophthalmologists/cataract surgeons and 6.8 ophthalmic nurses per million population [20], below the recommended regional targets of 4 and 10 per million, respectively. About 80% of ophthalmologists, 50% of cataract surgeons, and 39% of ophthalmic nurses are located in the capital city, serving 16% of the country's population [22].
The Community Health Officer (CHO) cadre was established in Sierra Leone in the 1980s to provide frontline primary health care in rural communities [23]. CHOs receive three years of basic medical training [23]. They are salaried civil servants within the Ministry of Health and Sanitation (MoHS) and posted at the lowest tier of the health care system, in Peripheral Healthcare Units (PHU), where they are the first point of contact for patients, especially at Community Health Centres (CHCs) [23,24]. CHOs provide a range of preventive and clinical health care services and they work under the immediate professional and administrative supervision of the District Medical Officer (DMO) [24] who is often in charge of CHCs with a catchment area of 10 000 to 30 000 people [23]. At the grassroot level, the health system extension and basic service delivery is provided by Community Health Workers (CHWs). They serve as a link between CHCs and the communities and deliver health education, screening and referrals [25].
In 2011, the MoHS in collaboration with Njala University and other stakeholders, launched a programme to train CHOs in clinical sub-specialties, as recommended by WHO [26]. The training was residential and delivered by Njala University. Initial specialisations included minor surgeries and obstetrics, followed by ophthalmic care and mental health. The programme for ophthalmic CHOs (OCHOs) began in 2012, and aims to strengthen primary eye care services by shifting tasks from mid-level ophthalmic cadres working at the secondary level to CHOs [27]. Programme participants must have had the initial CHO qualification and two years' experience in the government sector. OCHOs are trained in basic ophthalmology over 18 months and are expected to return to their community health units to deliver basic eye care services alongside other health care responsibilities ( Figure 1 ). No refresher training or on-site mentorship was planned as part of the training programme. The key OCHO competencies include diagnosing and managing common eye conditions, prescribing and dispensing simple ophthalmic drugs, performing minor eye surgeries, and organising outreach services [27]. The training modules also include algorithms for patient management to ensure that patients with complex eye conditions requiring more advanced ophthalmic care are identified and referred.
Figure 1.  Communication pathways for Sierra Leone National Eye Health Programme. Source: Adapted from the National Eye Health Policy Sierra Leone 2018-2022.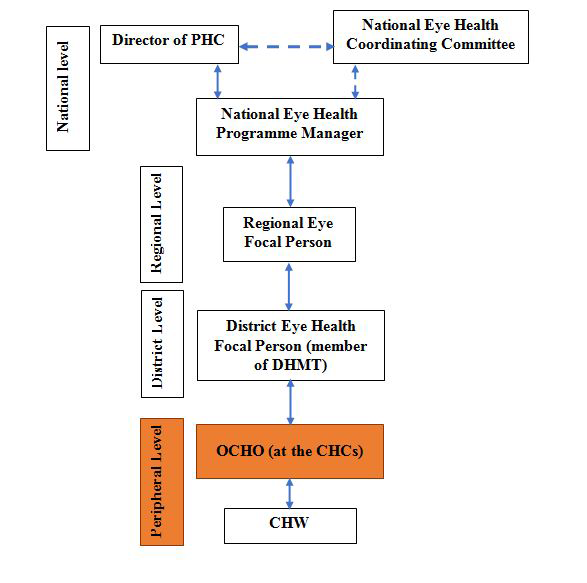 The OCHO programme has not been evaluated and little is known about its implementation. This study explored the experiences of OCHOs trained under this new programme. It focused specifically on the OCHOs' perception of the training, their post-qualification deployment, their relationships with colleagues and their interactions with the wider health system. It is envisaged that the insights from this study will be useful for the design and delivery of future similar task-shifting programmes in Sierra Leone and more widely.
METHODS
Study design and sampling
The study used a qualitative design with semi-structured interviews to collect data. All OCHOs trained and operational by January 2018 were invited to participate. Other stakeholders involved in the programme, including primary health care officials and health managers, teaching staff and other health care workers were also purposefully selected and invited to participate.
Interviews were supplemented by documentary analysis of MoHS policies, the OCHO curriculum and the regulatory framework. However, we did not have access to the hospital records and cannot say whether the task-shifting has resulted in lower number of patients with simple eye care conditions presenting at the secondary level.
Data collection and analysis
All interviews were conducted in English by four researchers (males-VP, PT, MV and one female, NS) in April- May 2018. Interviews were conducted in a place convenient to the participants and lasted between 40 and 60 minutes. Three topic guides were developed with questions relevant to different groups of participants. The OCHOs' topic guide was focused on the OCHOs' experiences of their training, the application of new skills, daily work, and how they perceived their role within the health system. The two other topic guides for stakeholders from the MoHS, training institution staff and other health care workers working alongside the OCHOs were focused on the selection process, the legal framework, and the working relationship with OCHO. Interviews were audio recorded and transcribed verbatim.
Data was analysed thematically using NVIVO 11 [28] following six stages: familiarisation with the data; coding; generating, reviewing and defining themes; and writing up. The coding framework was developed after reading the first batch of transcripts. All transcripts were coded independently by three researchers (VP, PT and EJ). A fourth researcher (SB) was involved in discussing discrepancies and reaching a consensus. Data interpretation was validated with a selected number of participants from different stakeholder groups during a workshop.
Ethical considerations
The study was approved by the Sierra Leone Scientific and Ethics Committee. All participants were informed about the objectives and process of the study. Participation was voluntary and there were no incentives provided in this study. A written informed consent was obtained from all participants. All data were anonymised and kept on password protected computers.
DISCUSSION
One of the key benefits expected from task-shifting in specialties with human resource gaps such as eye care is improved access to specialised services at the primary level [1 ,25]. In Sierra Leone, the OCHO programme was created with that purpose in mind [27]. Shifting some eye care tasks from ophthalmic nurses to CHOs was intended to increase access to eye health services and strengthen the integration of eye care into primary health care [29-31].
In this study, we found that from the perspective of stakeholders on the supply side of eye care, the roll-out of the OCHO programme presented a mixed picture. The programme as designed was appealing to CHOs and its purpose resonated with their perception of their role in the community. The majority of OCHOs participating in our study were eager to take up their new role and help improve access to eye care for their local communities, who they felt acknowledged and valued their role. However, systemic issues arising from insufficiently defined pathways for policy implementation and poor system support undermined the task-shifting programme at two levels.
At the individual level, lack of a clear OCHO policy framework resulted in demotivation and problems with retention of the newly trained staff. In particular, a framework document highlighting competencies, scope of work, regulatory norms and standards, performance indicators and remuneration, which are core to ensure this cadre is effectively integrated, recognised, and sustained within the health system [ 32], was clearly missing. Previous reports have described the lack of capacity to manage human resources strategically as a weakness at the level of the MoHS [7]. Similar findings have also been reported in other studies in the region, where ambiguity about entitlements, policies and procedures was the main driver of staff dissatisfaction, which negatively impacted the implementation of task-shifting [32-35]. Evidence also suggests that recognition and a defined status within the health system have high influence on health worker retention and motivation [36]. Our study findings suggest that in spite of their specialisation, OCHOs have not been given a higher status within the national system, nor have they been recognised as a health care cadre at the sub-regional level. Without a clear and well communicated policy apparatus, these challenges will be difficult to fix, with implications for the sustainability of the OCHO programme. A systematic review conducted among health care workers in East Africa reported that lack of appreciation and lack of recognition were the main demotivating factors among health workers [37].
At the system level, the slow or insufficient adaptation of other parts of the health system prevented a smooth integration of the new OCHO role in the primary care system. Inadequate procurement of equipment and supplies to perform the job is one example. Another is that although OCHOs were trained to identify a range of eye conditions, the Health Management Information System (HMIS) used at the primary care level had only one eye care indicator. Similar observations were made in other studies in SSA. For example, a study in Tanzania showed that training primary care nurses in eye health did not result in a better access to services for local populations because other parts of the health systems, such as staff supervision, procurement of medical supplies and information systems, have not been adapted to integrate the new tasks [15].
This study had two key limitations. First, we only had two female OCHO participants. This gender imbalance reflects the high male-to-female ratio among those trained as OCHOs under the programme. Studies in other settings have also found gender imbalances among certain medical cadres in LMICs [38], so recruiting more female OCHOs in future programmes should be a priority and future research should include more female OCHOs to reflect more comprehensively OCHOs perspectives and experiences. Second, we did not interview community members or patients in this study and do not know their perceptions of OCHOs and their willingness to take up eye care services at the primary health care level. Some studies in Asia for example, suggest that communities often perceive eye diseases to be too complex to be dealt with by community health workers, which results in low uptake of referrals made by this cadre [39, 40]. A study in Nigeria suggested that community health seeking behaviour may differ according to the type of problem perceived [41]. Future studies in Sierra Leone should explore community views on task shifting of eye care to OCHOs.
CONCLUSION
While there may be operational quick-fixes for some of the issues raised, the consequences of weak policy architecture make clear that there must be considerable investment in a robust policy environment if the primary health care system in Sierra Leone is to be successful. Systemic changes to remedy these limitations are not easy to implement, but until they are, the early promises of the OCHO programmes will remain stunted, together with improvements in access to basic eye care in Sierra Leone, and efforts towards achieving universal health coverage.