The Lives Saved Tool (LiST) is a mathematical modeling tool currently maintained by the Institute for International Programs (IIP) at the Johns Hopkins Bloomberg School of Public Health. Based on early modelling work for the Lancet Child Survival series 2003, the tool has evolved significantly. In 2008, LiST was integrated as a module in the Spectrum Policy Modeling System (Spectrum) software package – developed and managed by Avenir Health. LiST runs within the Spectrum package, making use of data and calculations from other modules in Spectrum: demographic data from the DemProj module, HIV and AIDS data from the AIM module, and family planning data from the FamPlan module [1 ]. Additional outcomes were added including interventions that impact stillbirths, birth outcomes and maternal mortality in 2011 [2], and diarrhea and pneumonia incidence were added in 2013 [3]. Stunting and wasting were added in 2008 [4], with additional nutrition outcomes related to the 2012 World Health Assembly (WHA) targets added in 2017 [5]. Today, the most recent version of the tool (v.6.0) can model the impact of 77 interventions along the continuum of care on 28 different causes of maternal, neonatal and under-five death, along with 5 of the 6 WHA nutrition outcomes and stillbirths.
LiST has been used by various agencies, ranging from academic institutions to non-governmental organizations (NGOs) to government agencies, typically for strategic planning, evaluation, or advocacy [6]. However, many groups that have used LiST have required support from the LiST team in the form of training workshops for local teams and/or support for running analyses. Indeed, of 122 peer-reviewed articles published that use LiST (available here), 56 have a named author that is a current or former IIP faculty or staff member. While this list does not capture internal reports or other grey literature, for which LiST may have been used independently, it does suggest that having support from IIP is often useful.
This situation is due in no small part to the fact that although LiST is free to download, the learning curve for how to use the software is perceived by many to be steep [7]. Typically, workshops will last between two and five days depending on how many functionalities are included in the training, as well as the size of the group. Trainings open with a conceptual overview of how LiST works, which is detailed in a publication by Walker [8]. This is followed by hands-on sessions with the software. Additional conceptual training may be added for specific functionalities (eg, subnational wizard, LiST Costing, etc.). By the end of the training sessions, most users are able to navigate the software but are often limited in their ability to carry out more advanced analyses independently.
.  Photo: Using LiST Online for remote training (from the author's own collection, used with permission).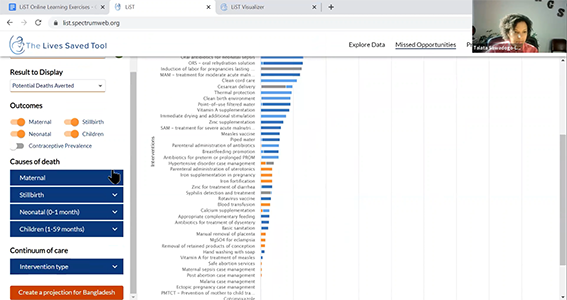 To improve usability, the LiST team at IIP in partnership with Avenir Health began the process of developing an online version of LiST. Specifically, the LiST team aimed to address the usability challenges by developing a tool that: (1) would reduce friction on users' end by removing the need to download and install, (2) would increase the focus on LiST features of Spectrum by making LiST itself the entry point to the tool, (3) would have an intuitive "walk-through" approach, guiding the user through the analysis process reducing the need for formal training, (4) would promote collaborative work through a user accounts/library system, and (5) would be browser-based, and therefore be able to be run on all operating systems including macOS.
DEVELOPMENT PROCESS
The LiST team began the development process for LiST Online in late 2018 with brainstorming and informal internal focus-group sessions ( Figure 1 ). Throughout development the LiST team sought external feedback and guidance from many sources. The LiST team worked with a design firm to guide the aesthetic and user experience of the tool. As part of this process, the external design firm led two rounds of user testing, the findings of which were incorporated in the tool. When a beta version was available, the LiST team held user-testing sessions with different potential user groups, including researchers, students, and public health practitioners. LiST Online was formally launched in January 2021 and is available at https://list.spectrumweb.org.
Figure 1.  LiST Online development process.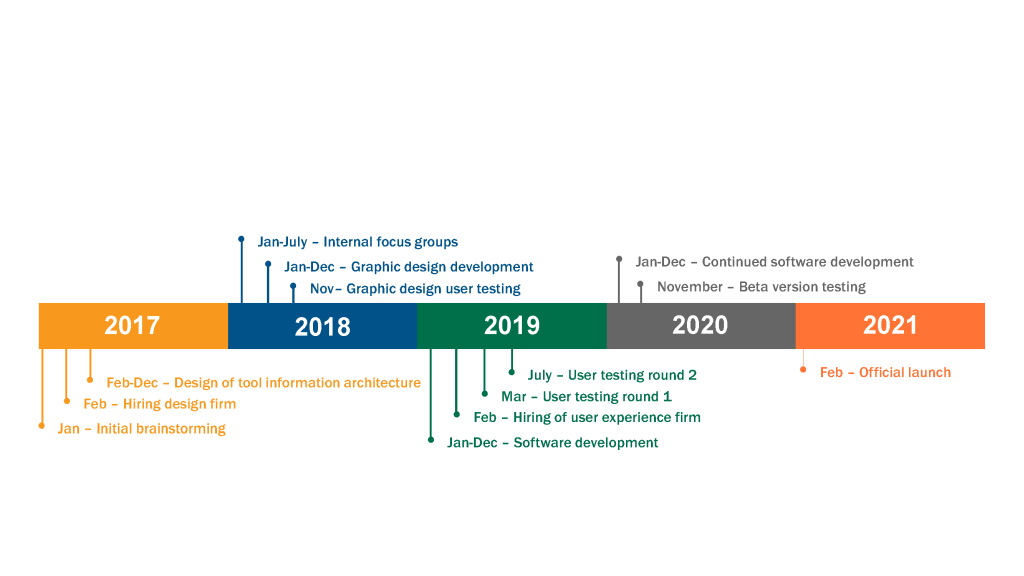 KEY FEATURES OF LIST ONLINE
Four features of LiST Online are particularly exciting and highlighted here.
CONCLUSION
LiST is a public good that has always been freely downloadable. Now it can be used in real time by anyone with an internet connection, regardless of their operating system. With LiST Online, we have created a tool that is easy to use and which can run with minimal external support. It automatically updates data and assumptions and will eventually be able to link to other platforms. We hope this will lead to more people using LiST for evidence-based decision-making at all levels of government and civil society independently – our small contribution towards decolonizing global health.